Power 7+ Highlights
Increases the number of virtual machines from 10 to 20 per core – decreasing the minimum processor resource to 5% for software development
Increases L3 cache from 4MB to 10MB per core, making 80MB shared per chip
Increases frequency – Power7+ frequency now up to 4.4GHz
Aims to increase the number of private Cloud deployments through its Smart Cloud Enterprise and Tivoli Automation Manager software
Allows for utility pricing with its Elastic CoD (On/Off) offering
Is putting the new chip in 770 and 780 – but not 795 – systems
Delivered through $1.4B research and development investment Should win over x86 VMware customers through offering cheaper virtual machines, higher performance, easier deployment and better management software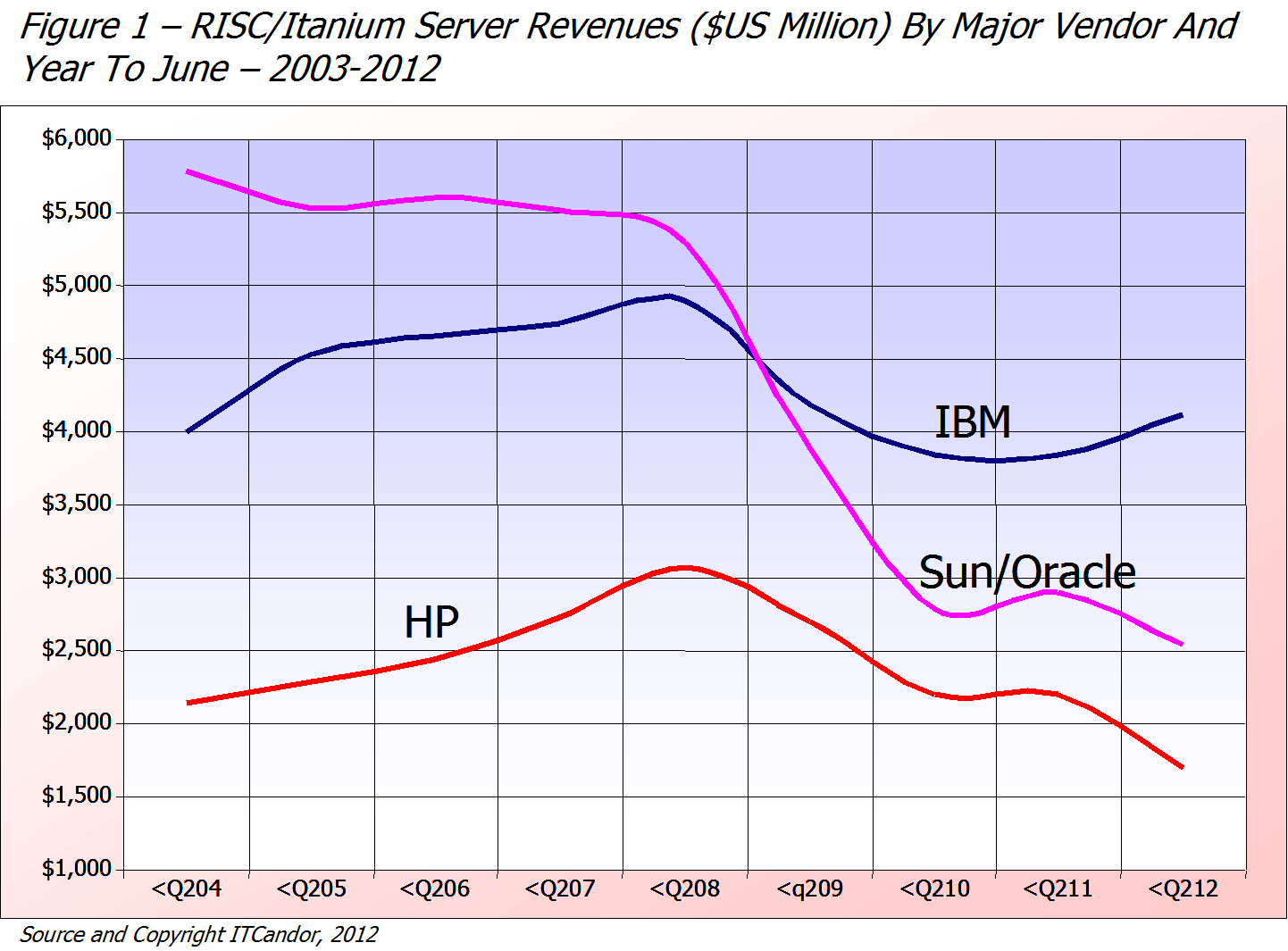 There has been a major shift towards x86-based servers since the Credit Crunch in 2008 and an overall lessening of the importance of servers based on RISC and Itanium processors. However IBM has undoubtedly been doing better than its 2 nearest competitors (see Figure 1), due in part to significant investment in its Power chips ($1.4 billion for today's launch of the Power7+ chips, systems and software for instance) and its bottom-up approach to computing. You'll want to see how its latest announcements are designed to keep the trend going.
What Has IBM Announced?
The new chips announced today are going into IBM's Power 770 and 780 (but not the 795) servers. These are servers towards the top of IBM's overall range, which includes:
IBM Power 710 Express, Power 720 Express, Power 730 Express, Power 740 Express, Power 750 Express, Power 755

Power 770 and Power 780

– the machines being updated today
Power 795
BladeCenter PS700 Express, PS701 Express, PS702 Express, PS703 Express, PS704 Express
IBM PowerLinux 7R1, IBM PowerLinux 7R2
IBM PureFlex p260, PureFlex 460 and PureFlex p24L
Its rationale for not upgrading the Power 795 is that the Power 795 was the last system introduced with Power7 and as such was introduced with the highest frequency, up to 4.25GHz, at its launch. Its clients prioritise stability, IBM says, and many have invested with plans for growth on their existing asset and likely have significant available capacity. As a result, they would be un-inclined to pull out all their nodes and migrate their DIMMs at this point in the life cycle (IBM had similar strategy with its Power6 generation): it reports however that a few 795 users are considering purchasing the new 780s as well.
Faster Chips With More Resources
There are numerous features of the new Power7+ chips. In particular:
Built using a 32nm process, the chips run up to 4.42MHz
It includes 10MB L3 cache (up from 4MB) per core, giving a total of 80MB shared per chip
The servers can now run up to 20 virtual machines per core (up from 10), which is significant for software development as a single core will now take up a minimum of 5% of processor resources.
It has added a Dynamic Platform Optimizer, an Active Memory Expansion Accelerator and on-chip encryption for its AIX operating system (the Power series also runs iOS and Linux of course)
The Power 770 (9117-MMD) series has up to 48 cores (4 x 12 core 4U sized nodes) running at 4.2GHz, or 64 (4 x 16 core nodes) at 3.8MHs
The Power 780 (9179-MHD) series has up to 64 cores (4 x 16 core nodes) at 4.4MHz, or 128 cores (4 x 32 core nodes) at 3.7MHz
It offers seamless growth via Capacity on Demand and has added more flexible Elastic Capacity on Demand (On/Off CoD) enablement keys to both systems, allowing for utility pricing.
It now includes built- Elastic COD (formerly On/Off) for the 780 with Power7+ processors and Power 795 systems, essentially offering an initial quantity of no-charge processor and memory day credits as standard
New Power Systems Pools allow up to 10 Power 780s with Power7+ processors, Power 795 servers, or a mixture of the two to aggregate Elastic CoD credits and billing for simplified administration and to share virtual processor and memory resources in support clients' business resiliency initiatives.
IBM has also taken the opportunity to tune its management software, operating systems and tools to take advantage of the new chip. We note that many of the new features are designed for ease-of-use and Cloud deployments.
Better For Cloud And Advanced Virtualisation
In terms of the use of Power Systems for private Cloud deployment, the presenters indicated that 80-90% of customers are using advanced virtualisation, but not all are using self-provisioning and other functions that some analysts would classify as 'true Cloud' usage. In particular while many deployments qualify as private Clouds from an IT administration point of view, not all allow developers to request and provision their own resources via self-service portals. It addresses this usage model through its Smart Cloud Enterprise software and offers other advanced Cloud functions in its Tivoli software. The Technical University of Munich is a good example- it uses Tivoli Automation Manager for provisioning, billing and charge-backs.
Some Conclusions – Ease Of Use Essential For Alternative Processors
This is a highly technical announcement, with IBM having to explain the advantages of the new chip as well as the new systems and software modifications and, as usual it takes absolute responsibility for its systems. It is encouraging its customers to use automation software in order to move to advanced private Cloud deployments.
With the decline in HP Itanium and Sun/Oracle Sparc server shipments IBM is beginning to stand alone in this market in the way it does in the mainframe one. It still believes that technical R&D and investment from the chip-level up can create strong profits. The systems announced today are coupled with an extensive set of software enhancements to address customers' explicit data, Cloud, security and compliance needs – a value creation model it intends to continue. Its PowerSC, Trusted Surveyor, Solution Edition for Cloud, SPSS and Cognos software are good examples of how it leverages both hardware and software investments to deliver additional value and optimisation to clients.
However for most of the IT world 'x86' and 'server' are synonymous: even if the price per virtual machine is cheaper and performance higher with Power-based servers, expectations of difficulties in understanding and deploying these different machines are a strong barrier to consideration. We admire IBM's attention to ease-of-use and deployment, which will make life simpler for its existing AIX and IBM i customers, while the use of Power processors in its PureFlex systems already makes adoption a possibility for new ones. We believe that it will also be able to win over a significant number of current x86 server customers running VMware virtualisation software through its strong economic and usage arguments.