Gaming Market Highlights
Total market revenues drop 14% to $37.9 billion
Console revenues fall 27% to $11.7 billion
In hardware Sony leads with a 41.9% share of revenue
Nintendo is in second with 29.9%
Microsoft closes in with a 28.3% share
Hardware unit shipments slip 22% to 57.2 million
The installed base drops 8% to 285 million
Software drops just 6% to $25.0 billion
PC Software grows 29%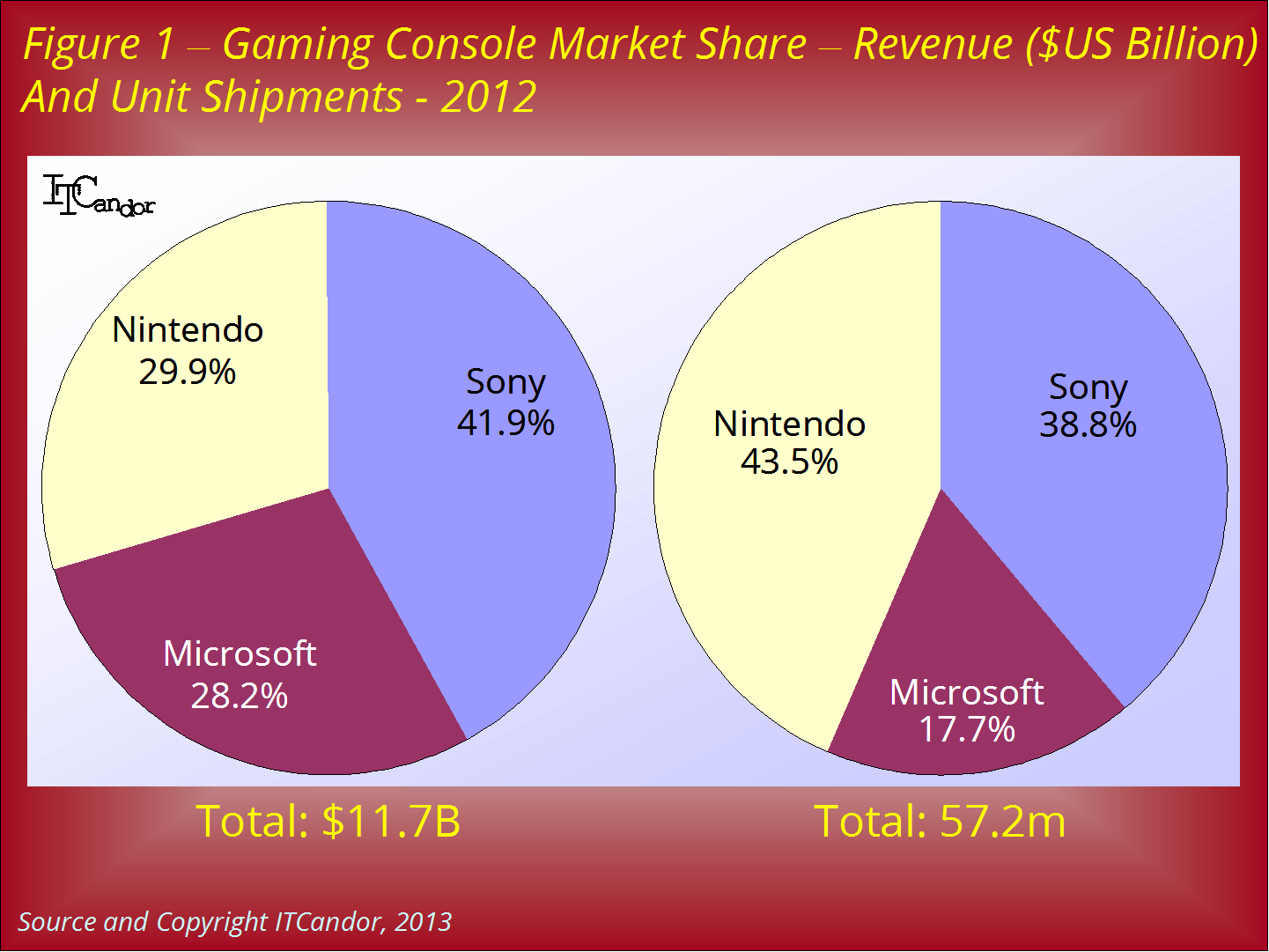 We don't want to get too depressed, but Xmas was not a great season for the gaming console market. You'll be interested in catching up on the business levels. As always this article is co-authored by Lizzie Hingley who continues to gain experience from the area.
Sony Leads In Revenue, Nintendo In Units
The gaming console market is a 3 horse race, due to the high costs to entry. We show market shares for 2012 in Figure 1. In total revenues from console hardware were $11.7 billion (down from $16.1 billion in 2011) – of this Sony has a significant lead with a 41.9% share from a mixture of Playstation 2, 3 and its PSP. Microsoft continues to sell just home Internet machines in this market, although it could be argued that its Surface products cross over into our area: like Sony it has a bigger share of revenues (28.2%) than unit shipments (17.7%). Despite a dramatic fall off in business over the last couple of years Nintendo continues to lead in terms of unit shipments with a 43.5% share.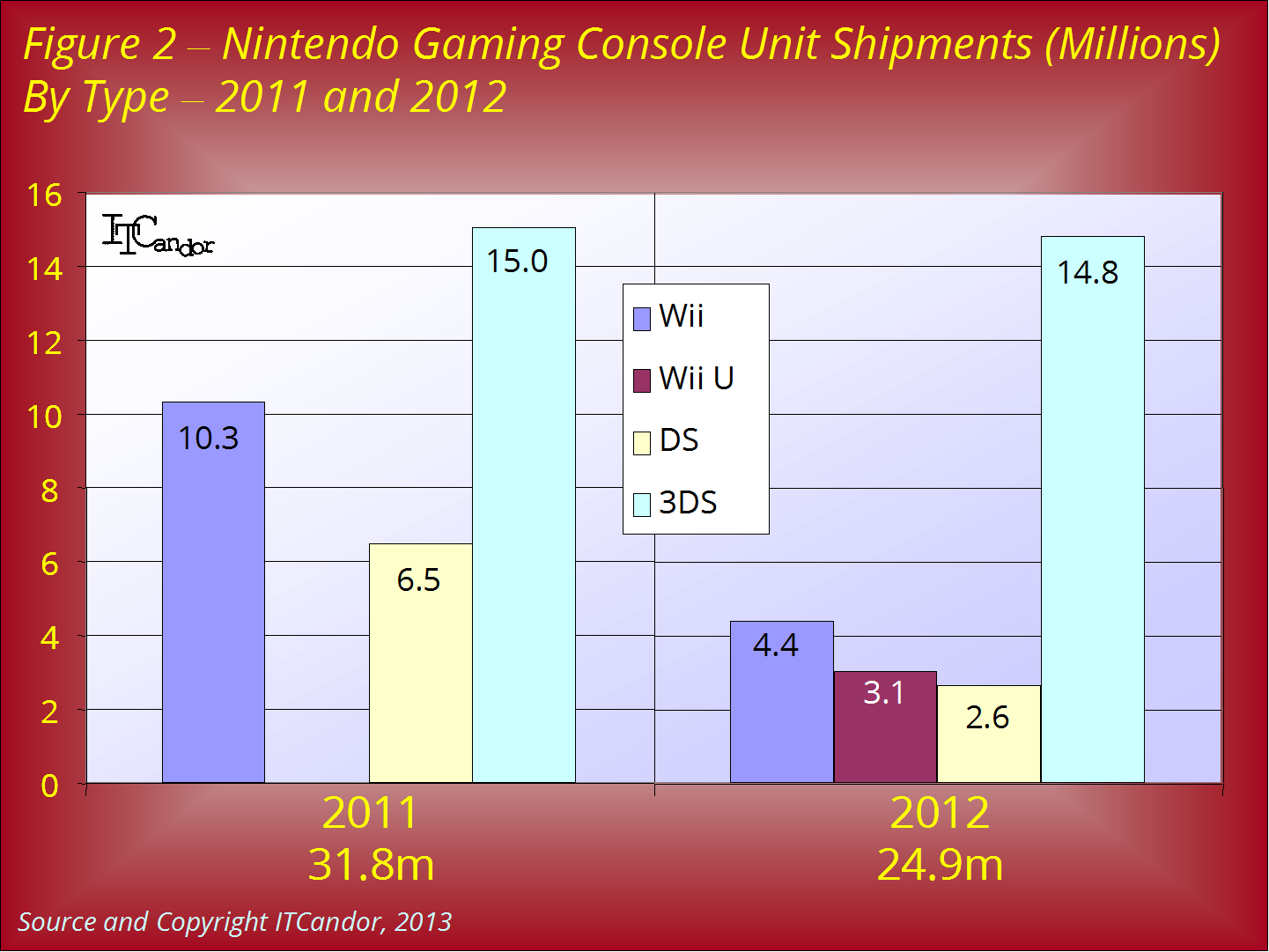 Nintendo Ships 3.1 Million Wii Us
Unit shipments from Nintendo dropped from 31.8 million in 2011 to 24.9 million in 2012. It has however been the most creative of the 3 vendors, reporting 3.1 million sales of the Wii U in its first recorded quarter. Despite this Wii Us and Wiis together in 2012 totalled 7.5 million in comparison with the 10.3 million Wii sales in 2011. Shipments of DS dropped from 6.5 to 2.6 million as to be expected: more concerning was the slight drop in 3DS shipments (from 15.0 to 14.8 million). Our summary of 2011 and 2012 Nintendo shipments is shown in Figure 2.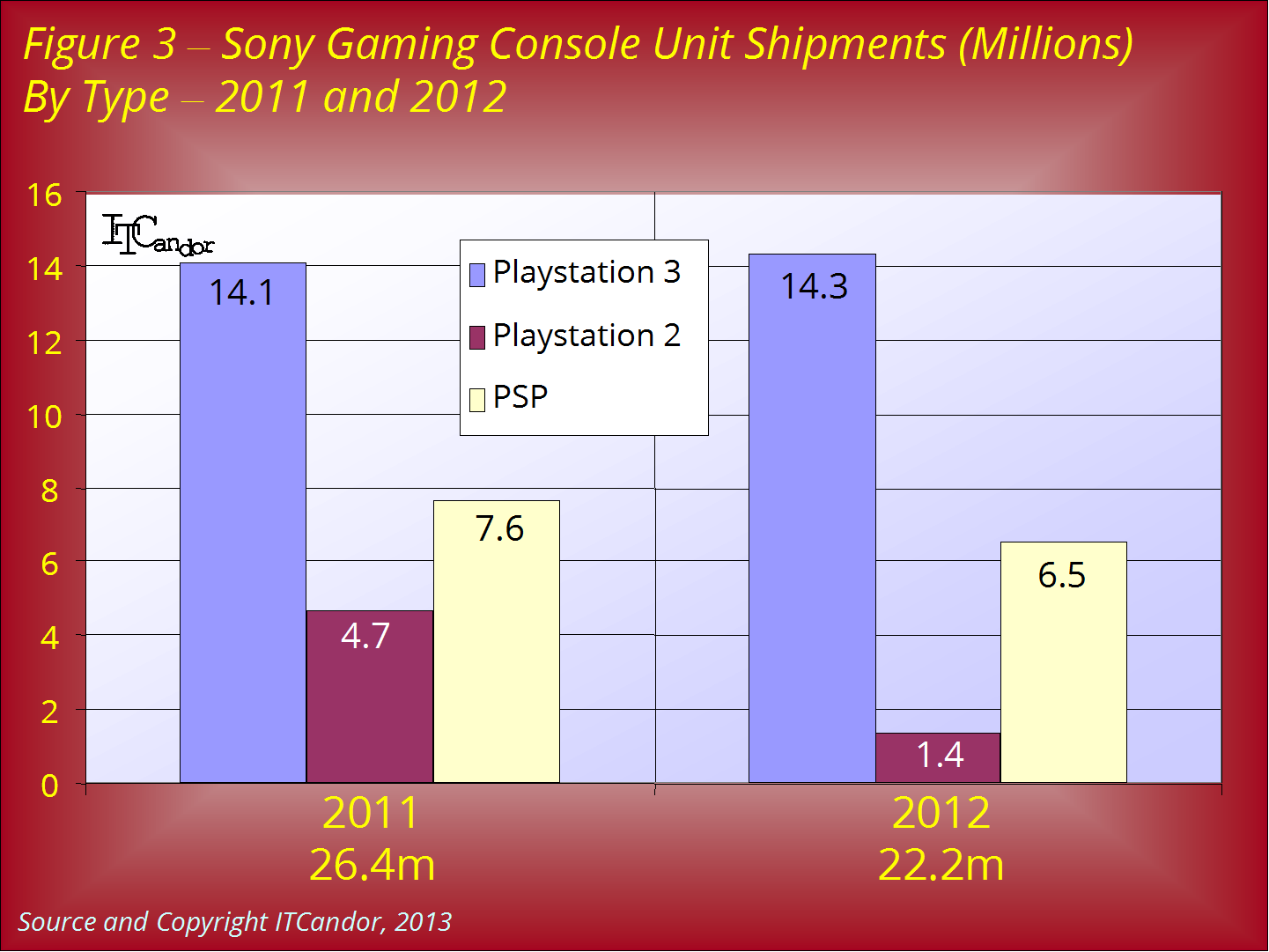 Sony Playstation 3 Grows…. Just
In total unit shipments from Sony slipped from 26.4 to 22.2 million between 2011 and 2012 (see Figure 3). Although it's stopped reporting them in the last quarter we believe it still sold around 1.4 million Playstation 2s in the year. Its biggest achievement was to grow Playstation 3 shipments from 14.1 to 14.3 million sales. PSP and PS Vita (included in the slide above) sales slipped from 4.7 to 6.5 million shipments in the year.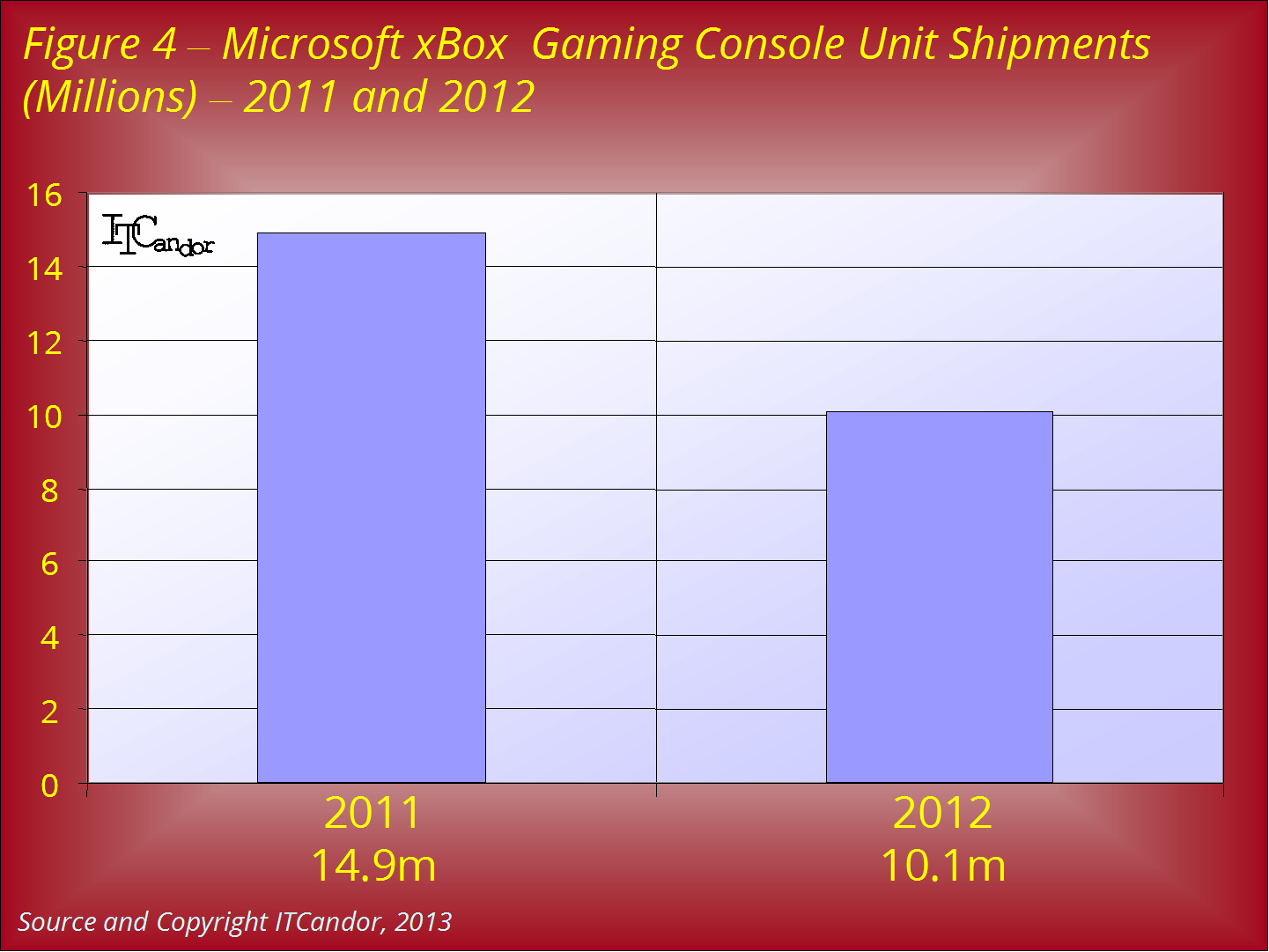 Microsoft Has A Lot More Than xBox On Its Hands
Shipments of xBox dropped from 14.9 to 10.1 million in the year and Microsoft remains the only one of the three vendors not to promote a portable console. Of course the company has a lot going on beyond console sales in the gaming market, such as the introduction of its Surface tablet designs . As with the xBox it has decided to compete directly against its OEMs for the first time in the PC and tablet markets, even if generating sales from its new operating systems remains the thermometer of success.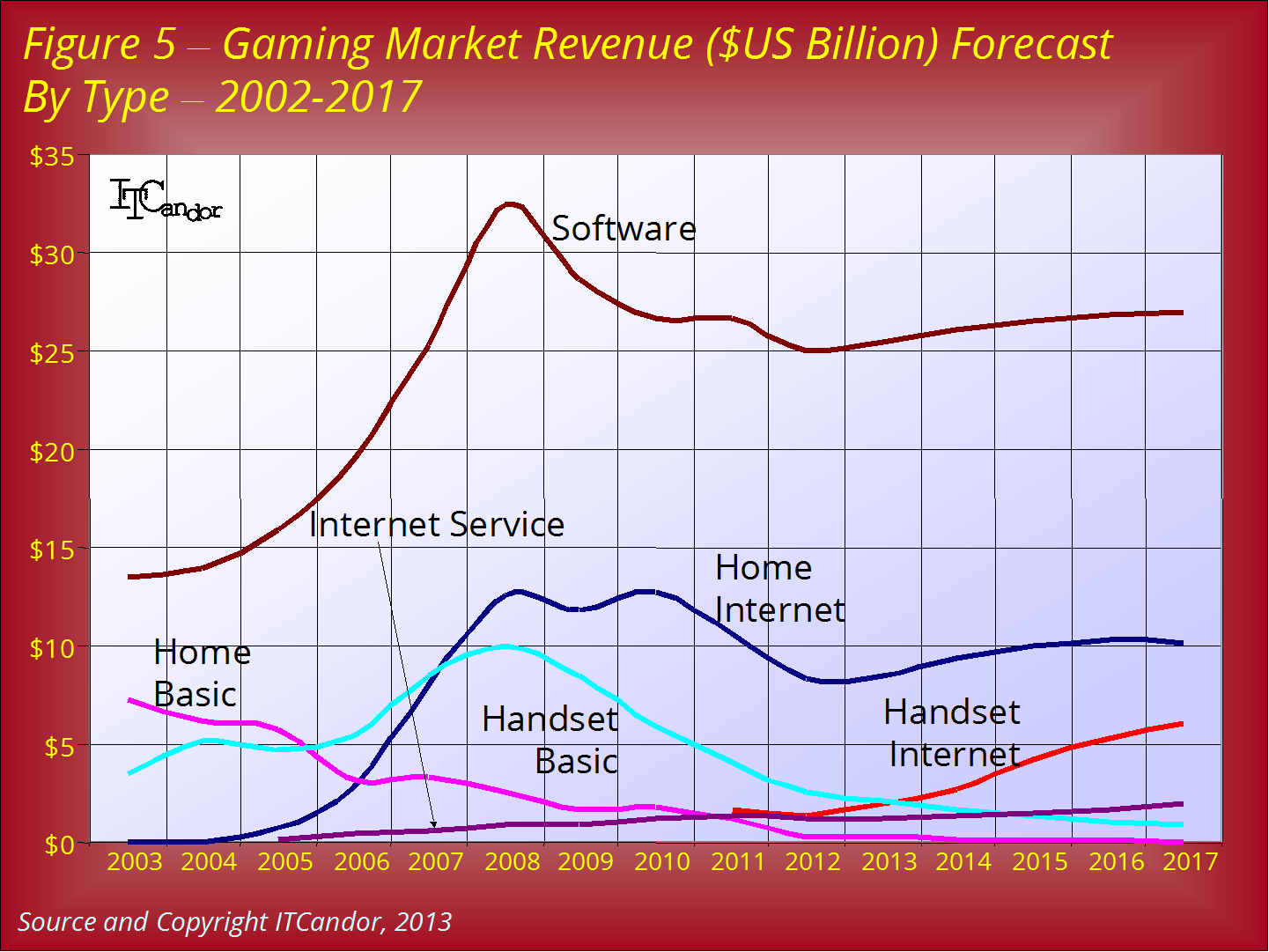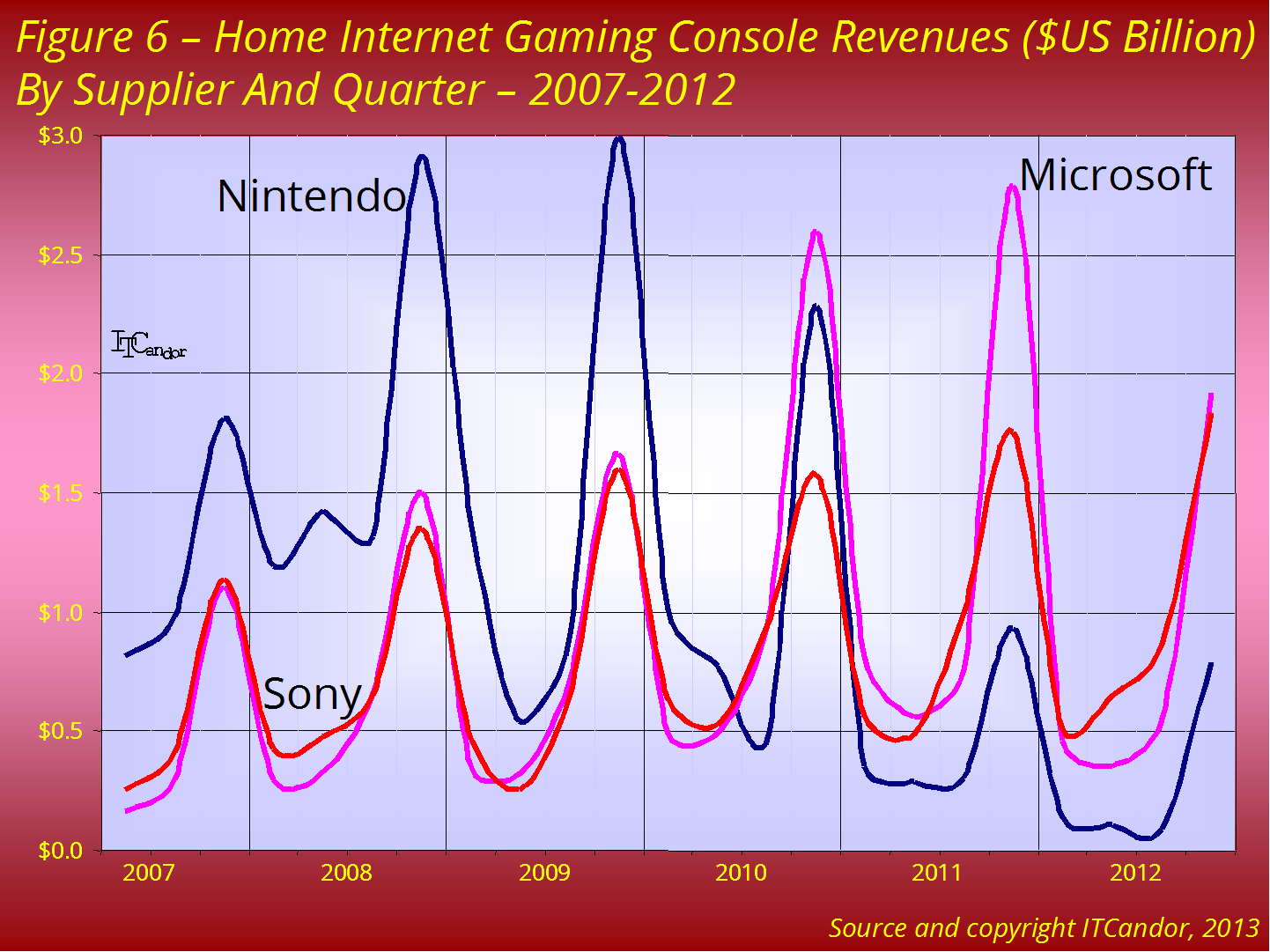 Some Conclusions – Tablets – If You Can't Beat 'Em…
Our forecast is somewhat depressed (Figure 6), with the bright spot in 2013 coming from the growth of Wii U and Sony's upcoming PS4. The big question is how Xmas sales will do this year and whether Sony can beat history in the home Internet console market to do better than its rivales: traditionally it loses market share in Q4 (see Figure 6).
In 2012 the only bright spot in the gaming market was PC software, which grew by 29% over 2011 levels to reach $8.1 billion: companies such as Activision Blizzard and Electronic Arts are finding a small, but growing business there.
Tablets come in all shapes and sizes from Kindles to iPads and are very rarely sold on their ability to run games: however they certainly compete for household budgets – pruned as a result of economic uncertainty – at Xmas and the gaming console is losing out. Much has been written about the negative effects Tablets have on the PC market and the delayed and/or missed opportunities of emulating Apple and Samsung's success. As always we need genuinely new hardware platforms (such as the Wii U) and a new approach to the mobile console market – how about marketing them as dedicated gaming tablets?