Gaming Console Q2 2012 Highlights
9.1 million consoles worth $1.8 billion shipped of which 5.4 million ($1.3 billion) were Internet enabled
The installed base reached 339 million, of which 153 million are Internet enabled
Within the Internet enabled console market 22% of units (1.2 million) and 13% of value ($163) were handsets
Gaming software accounted for 71.8% ($4.7 billion) of the total $8.0 billion market
Internet service only accounted for 3.1% of the total market value
Microsoft (35.4%) is now the hardware market leader, followed by Sony (33.1%) and Nintendo (31.6%)
Apple's iPad is a strong competitor for dedicated gaming consoles and its vertical integrated architecture holds lessons for console suppliers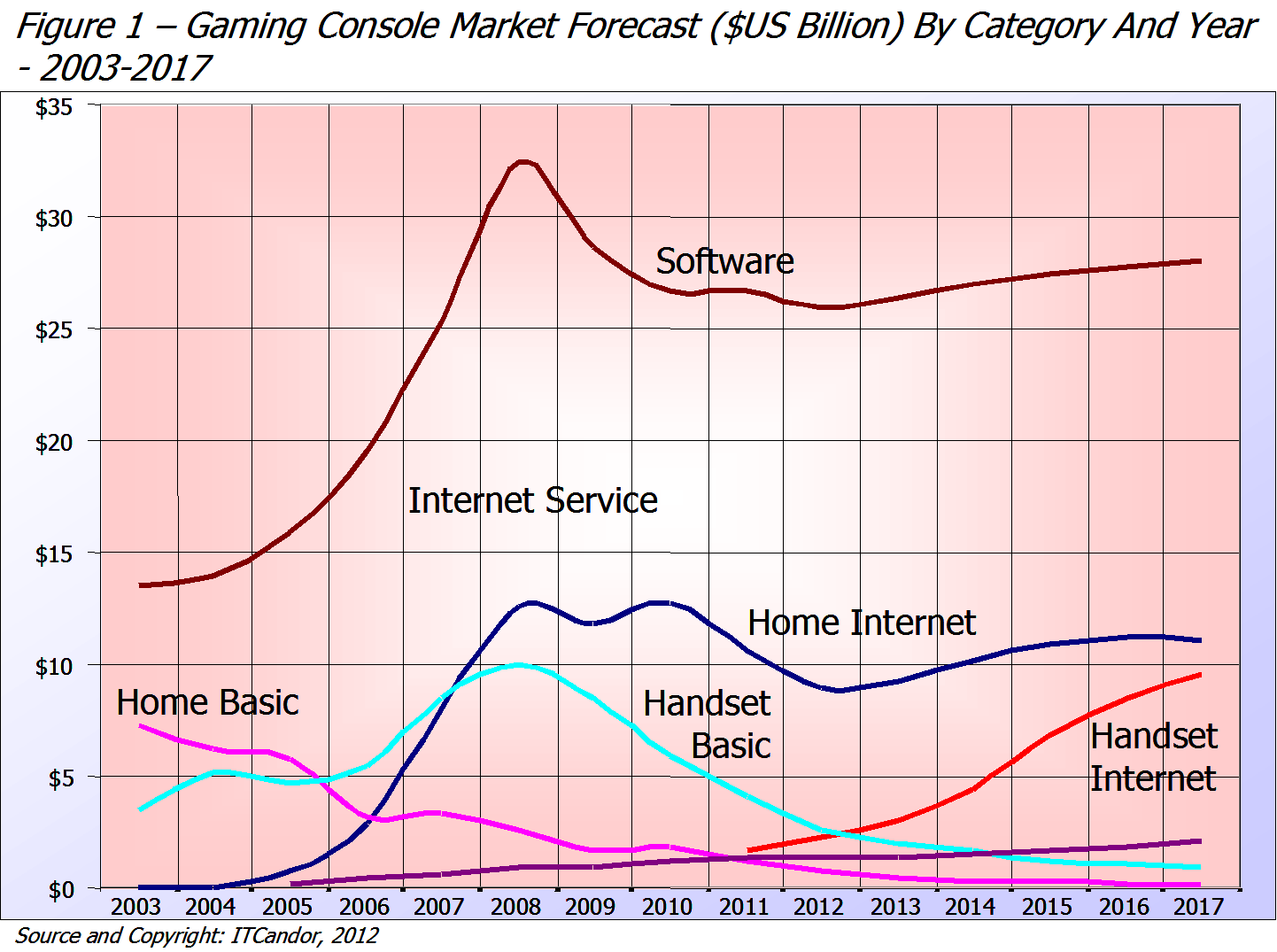 We know you'll be interested in an update on the gaming console market, as these posts are our most popular. As always we have been helped by Lizzie Hingley, who has worked in the sector for many years. This quarter we have added new information on software and country installed base – all part of our market model which we are happy to discuss and share with you. Please see our Q3 2012 update of this market.
Software Revenues Dominate
The gaming console market was worth $7.1 billion worldwide in the quarter and $42.7 billion in the year to the end of June 2012. We prefer looking at the yearly figures because of the strong seasonality of this market around Christmas and 4th quarter sales. Software accounted for $26.4 billion – 61.8% of the total. The next biggest sector was home Internet consoles (xBox 360, Nintendo Wii and Playstation 3), which accounted for $9.8 billion (22.9%): unit sales of these machines were 36.5 million – slightly lower to total home console sales due to a few Playstation 2 sales. Internet enabled handsets represented only 3.4% of sales in the year ($1.5 billion) – a greater proportion (6.9% and $$2.9 billion) of handsets still lack Internet connections. Internet services associated with the gaming console market represented 3.1% ($1.3 billion). A summary of these figures and forecast by year to 2017 is shown in Figure 1.
In the quarter the market declined by 10% overall on a year on year basis. The largest fall was in Internet handsets (-71%), which are being replaced by Internet enabled ones. Internet home consoles fell by 17%. Software revenues dropped only 1% while Internet service sales were up 4%.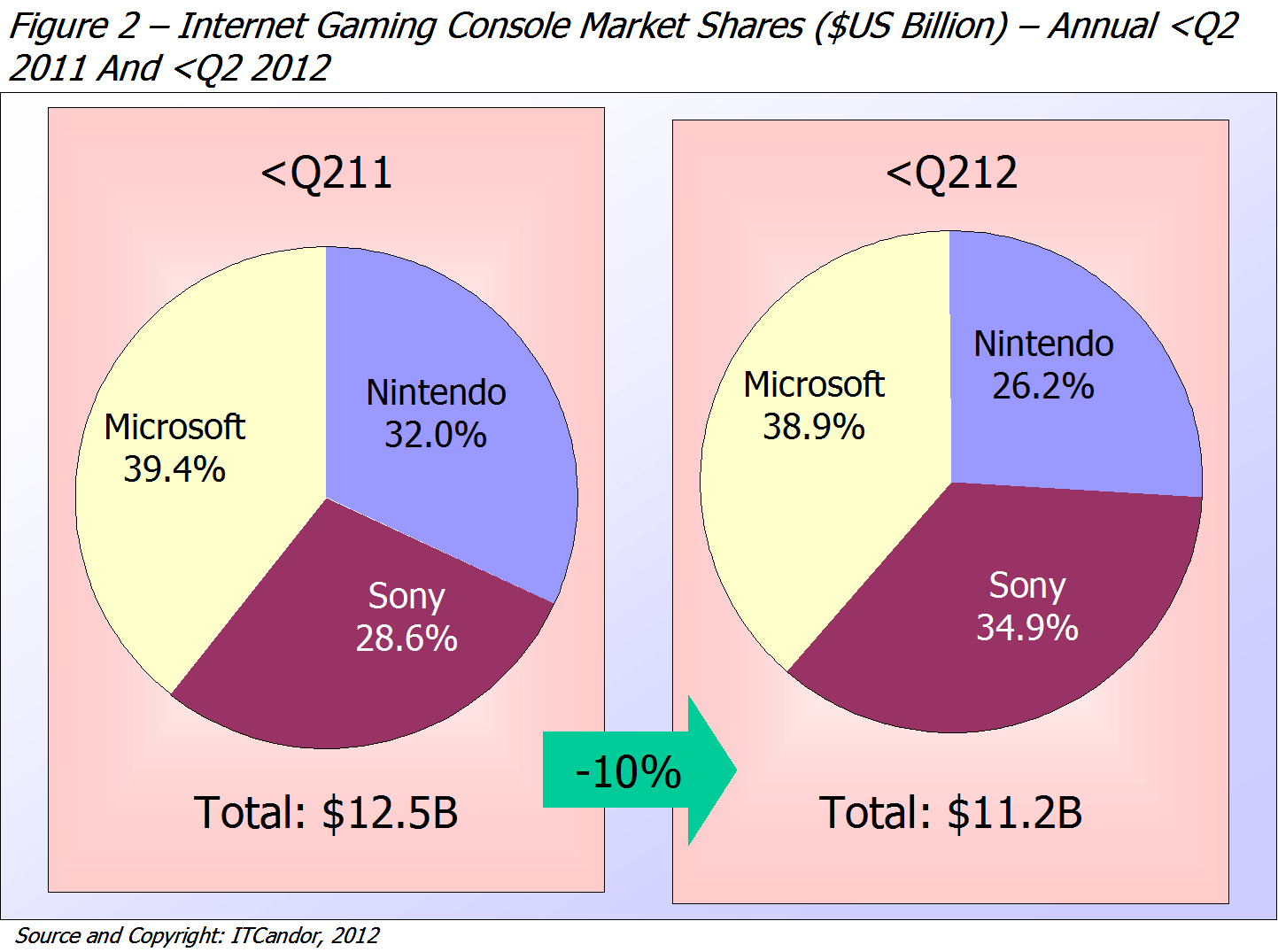 Internet Console Market – Microsoft's Growing Share
We're particularly interested in the Internet enabled home console market, because we see these machines as an essential feature of the overall IT client device market. Gaming console usage is very interesting as it often involves communities of users connecting to each other over wide distances. We have combined home and handset machines together in calculating the market shares shown in Figure 2 and the revenue development shown in Figure 3.
Of the three hardware vendors Nintendo is having the worst time currently and has fallen significantly from its market leadership position of a few years ago. All three home platforms are in need of a replacement and the whole market is likely to fall until that happens. As always offering new functionality, excellent graphics and speed will need to be balanced with backward compatibility with current consoles.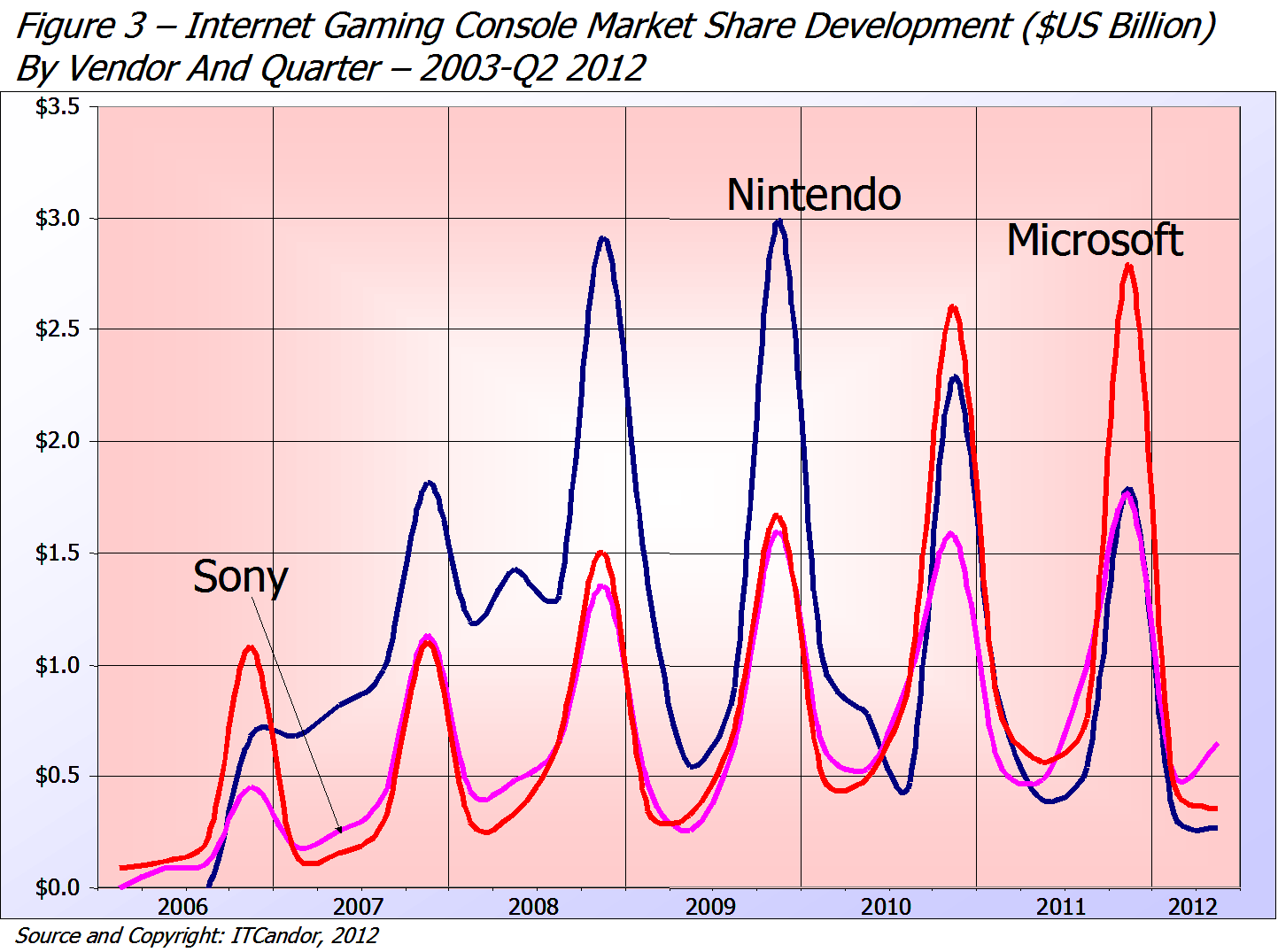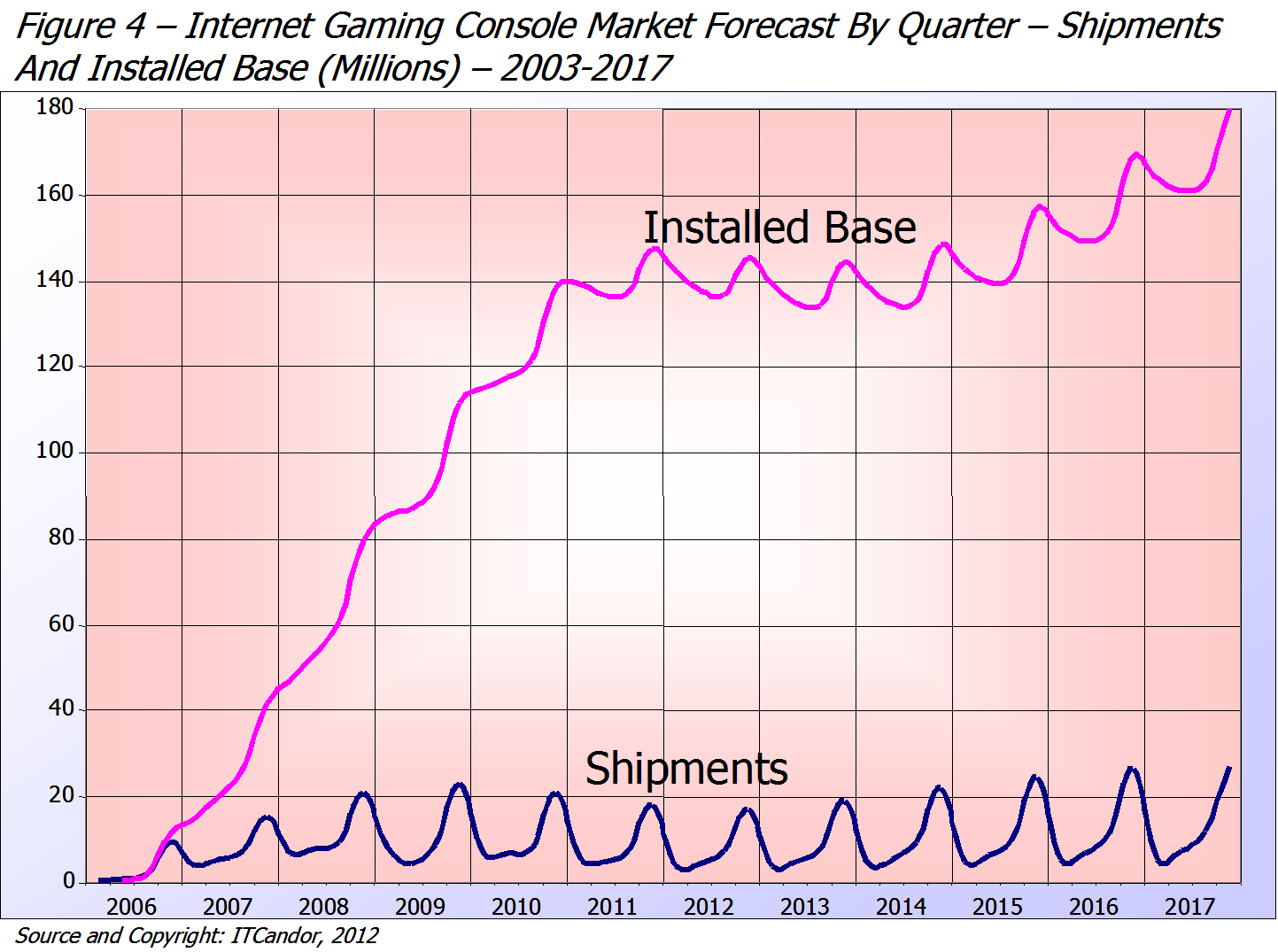 Internet Console Installed Base Reaches A Peak
Rather than simply taking the cumulative shipments of consoles as the total universe, we apply a replacement model in order to estimate the number of machines installed and in use at the end of each quarter and plot our forecast for installed base and shipments in Figure 4.
We believe that the peak of 148 million consoles installed in Q4 2011 will not be overtaken until the 4th quarter of 2015 and then increase upwards from there. One major movement (shown in Figure 1) is the steady rise of Internet enabled handsets, which will account for 47% of Internet consoles in 2017.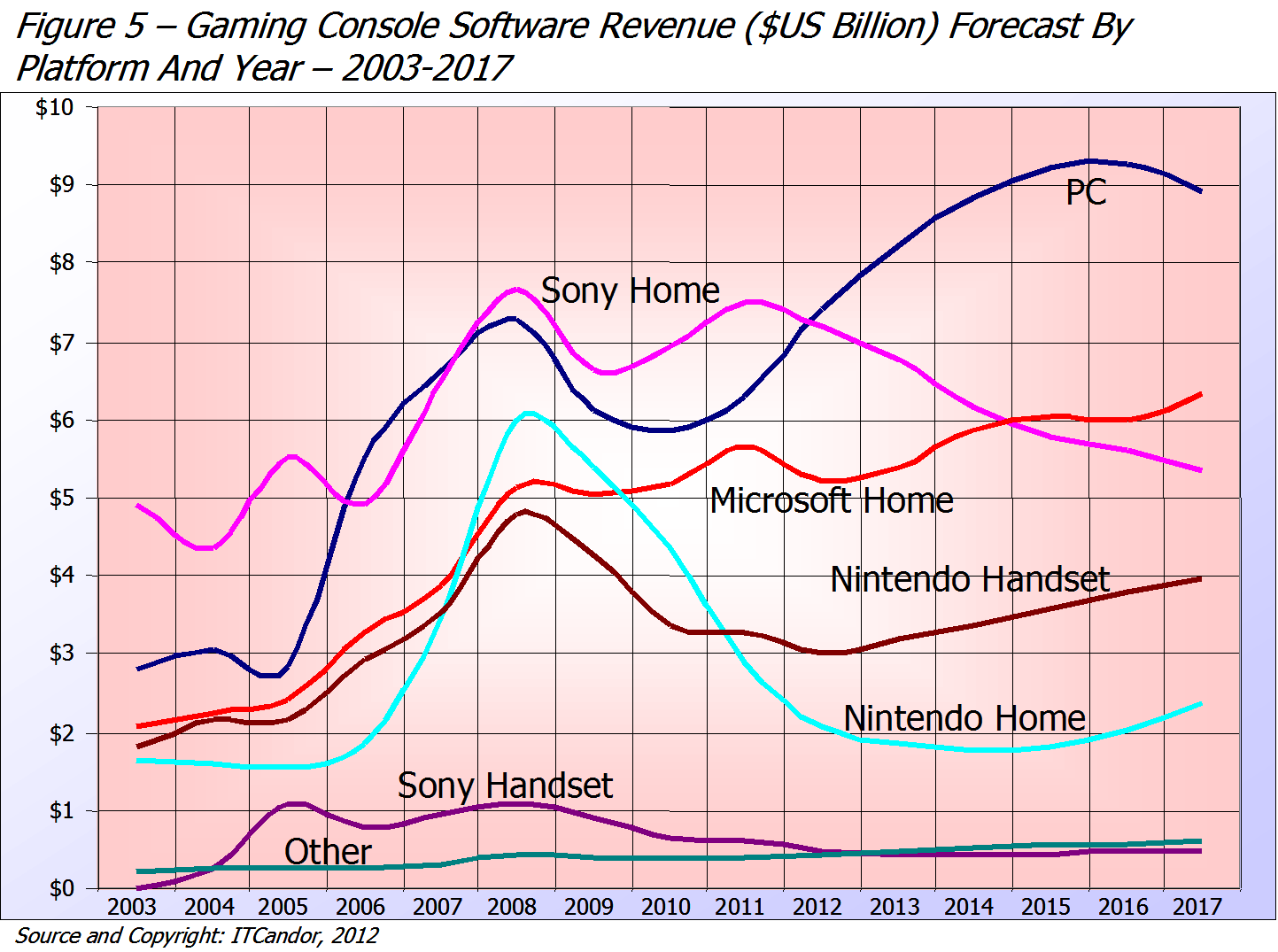 PC Titles Will Overtake Dedicated Console Software
We've expanded our forecasts this quarter to look at software revenues for this sector by a number of dimensions, by adding Activision Blizzard and Electronic Arts data to the software stats from the three console hardware companies. Figure 5 shows the annual revenues of these companies (and a calculated revenue for other vendors). It shows that PC titles even from this restricted group of vendors are now on an equal footing with Sony Playstation. We expect this trend to continue; especially as PC tablets such as Microsoft's Surface begin to be chosen in preference to dedicated hardware.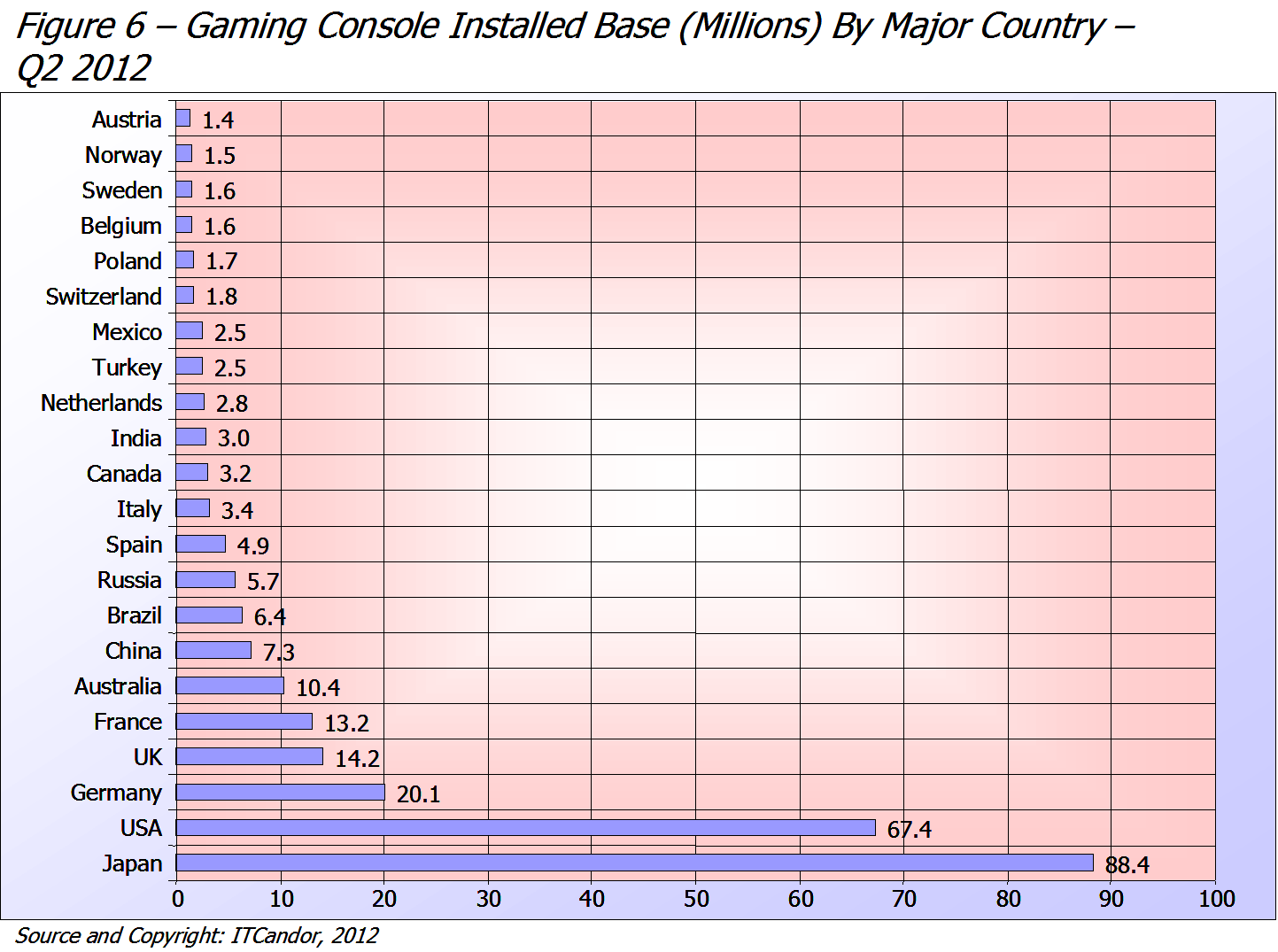 Japan Has The Largest Installed Base Of Gaming Consoles
For the first time this quarter we have estimated the revenues, shipments and installed base of gaming consoles by country – the largest markets for which we show in Figure 6. The total number of consoles installed at the end of Q2 2012 was 339 million (Internet enabled and not). Hardly surprisingly the largest country market is Japan (88.4 million), the home market for 2 of the 3 hardware manufacturers. The USA is second (67.4 million), followed by Germany (20.1 million) and the UK (14.1 million). By and large gaming consoles have a disproportionate important in mature countries of course, where there are large numbers of middle class homes with disposable income.
The Future Of Gaming
Vertical Integration is at the heart of the gaming console market – the creation of long-life advanced proprietary platforms with highly controlled (and attached) software businesses. If we look beyond this specific sector we can see a very similar model being applied by Apple, whose iPad is also the biggest competitor for these consoles. In the smart tablet market we estimate it has an 80% share – Android's general purpose horizontal play just isn't cutting in yet. The gaming console manufacturers need to embrace more holistic strategies if they want to compete with Apple – especially by investing in their Internet services to create stronger, secure communities of users. Unlike Apple's general purpose iPad gaming consoles have a dedicated functionality, which make them better suited to many (especially younger) users. We will undoubtedly become more optimistic about this market if and when the hardware vendors announce new designs.
Please let us know if you'd like us to focus on specific country markets in future posts.Information on our gaming console tracker can be found here.