Gaming Console Highlights
In 2013 the market declined by 13% to $10.2B
Sony was market leader with a 42.6% market share
Unit shipments fell 17% to 47.4 million
The installed base fell 11% 10 253 million
In Q4 revenues were stable at $6.0B
Units fell 7% to 27.5 million
Expect a 22% growth in revenues in 2014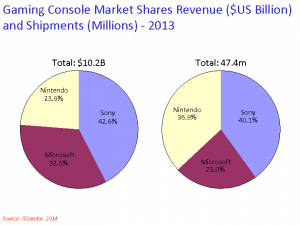 I wanted to share with you some stats on the gaming console market in 2013 – a time of turn around when new – long-awaited – platforms from all 3 vendors entered the market for the first time. Although there was decline in the year over all, Q4 revenues were the same as the year before, marking the start of a turn around in the market. We're forecasting a growth of 22% in 2014, which will make this the strongest offering in the whole ITC market. Dedicated consoles are just part of the overall market of course, which also includes PCs (which we don't count yet), software and Internet services (which we do). The total market for all the things we measure was worth $54 billion in the year and $19.0 Billion in fourth quarter – a decline of 3% and 10% respectively. In this article we'll look at each supplier in turn.
xBox
Microsoft shipments grew from 10.0 to 10.9 million thanks largely to the introduction of xBox One – a new console based on AMD semi-custom chips. In addition we believe Microsoft increased its revenues significantly from both hardware and software, although it has recently made changes to its financial reporting which make identifying gaming revenues much harder to follow. It associates its Surface tablet (which we think has done vey badly), Kinect and Skype revenues with gaming. The cumulative shipments of xBox now stands at 86.7 million, although be believe that those active in use (and therefore counted in our installed base numbers) as 44.2 million. We expect a continued ramp up in hardware sales throughout 2014 with a slower increase in software sales. We certainly believe Microsoft will increase its revenues from gaming in 2014.
Nintendo
Nintendo is having a harder time in the console business although it has both home and mobile consoles to help. In 2013 it sold some 17.5 million platforms including 12.9 million 3DS. This compared with 24.9 million and 14.8 million respectively the year before. Most worrying was the decline in sales of Wii U (from 3.1 to 2.8 million). This new platform was an upgrade on the highly popular Wii console, but not as revolutionary change as Microsoft or Sony's. Overall we believe Nintendo's hardware revenues slipped 30% in 2013, while the installed base of its consoles also fell to 115 million from 137 million in 2012. Its software revenues also slipped 20% in the year. We believe Nintendo's business will continue to be challenged in 2014 unless it does more to embrace Internet services and eventually a genuinely new home platform.
Playstation
Sony's introduction of its new Playstation 4 was the most important announcement of 2013. However it sold less consoles overall (19.0 million from 22.2 million) in the year. There were 4.2 million sales of the new platform, while the Playstation 2 shipped zero units for the first time. Sales of PSPs also declined from 6.5 million to 4.7 million. However we believe that the 11% fall in hardware business was made up for be a significant increase in Sony's software sales – especially in PS3 titles. The total installed base of Sony gaming consoles fell from 103 to 93 million in the year.
Some Conclusions – The Turn Around Beginning
As a follower of this site you'll know how bad gaming console business has been over the last couple of years. The recession and long wait for each company to introduce new home machines created double-digit declines. 2014 is a much happier time and there's a resurgence in interest not just in these dedicated consoles but also in the PC gaming market. You should expect a strong turn around and a much stronger interest in this area in 2014 and 2015.