AMD Highlights
A financial turn around well under way
Strong plays in embedded, System on Chip and semi-custom businesses
Adds ARM to x86 cores across the board
Improves efficiency by adopting a modular approach across multiple chip designs
First to deliver 64-ARM Seattle chips
AMD Seamicro wins Verizon's Cloud business
Dedicated gaming processor and graphics 'semi-custom' business will help it in the PC gaming market
Proposes disruption through innovation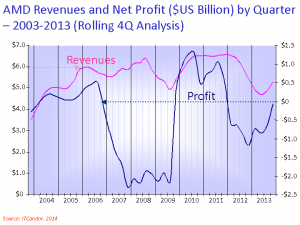 We travelled to Austin a couple of weeks ago to hear the latest from AMD CEO Rory Read, Lisa Su (head of Global Business Units) and other senior managers. I enjoy talking to chip producers because they have to look a long way ahead to succeed – it helps those of us who need to forecast the market. You'll want to learn more about its strategy and approach.
The Financial Turn Around
The Figure shows AMD's revenues and net profit on a rolling 4-quarter basis from 2003 to the end of 2013. It was hit hard by the Credit Crunch like all other vendors, but it also had to manage its transition to a fab-less supplier. It currently uses 2 fabs – GLOBALFoundries (spun out of AMD itself) and TSMC.
It was hit hard by the rapid decline of the PC market (which Rory admits took him by surprise): nevertheless it's managing its turn around well. Rory expects further consolidation in the supply chain going forward and believes that the growth of ODM business, Open Compute and vertical market solutions plays into its hands: 'the Cloud-driven era will need more integration – very few will be able to do it'.
CFO Devinder Kumar believes AMD will remain dept-free for at least 3 years and sees managing profitability as the key to its future success.
AMD is balancing x86 and ARM everywhere
Before arriving in Austin I'd already been briefed on AMD's addition of ARM processors to its x86 lines. I was surprised however to discover that it is adding ARM cores across all of its businesses. It refers to this as its 'AMbiDextrous' <my capitals> approach.
Mark Papermaster CTO told us about how AMD has refocused on its IP and how to take it to market. His team includes 7k engineers. He talked about the benefits of its Connect Fabric (not to be confused with Seamicro's Freedom Fabric), which incorporates an x86 or ARM core complex, GPU core, memory, third party IP, display, I/O hub and multimedia in a single design.
Challenging nVidia in the graphics market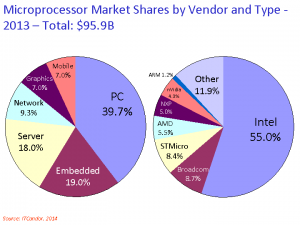 Raja Koduri has rejoined AMD from Apple to lead its visual computing engineering team. He notices that the company is different from the AMD he last worked for in 2008 – it still has lots of engineers and great products, but feels smaller and more agile with its decision making resting with just a handful of people now.
He believes graphics are going to become more important over the next few years for 2 reasons:
Greater resolution and dynamic range is being added to all market segments from small to large; 4k displays will be joined by 8k ones in a couple of years
Although personally sceptical he believes that virtual reality and presence are going to cause disruption
This is good news for AMD's graphics and processor businesses – high resolution virtual reality requires double-digit TFLOPS in a relatively small form factor.
We've enjoyed reporting on AMD's – especially the integration of SPU and GPU in its APUs; however it will have to be particularly aggressive in coming years if it wants to overtake nVidia whose graphics revenues are almost twice its size.
Adding ARM to AMD Cores
Jim Keller, who I remember as one of the designers of Digital's Alpha chip, admits to having a less formal view of things than Raja. He manages the team responsible for developing AMD's cores and is driving the change from custom to standard designs, making the cores portable from one platform to another. As always he believes performance is really important as well and is designing processors to meet Raja's need for TFLOPs.
At the meeting we got to see AMD's Seattle server – sampled in March 2013 and incorporating the world's first 64-bit ARM processor. It reports having a lot of demand for test systems and demos. It will undoubtedly take some time for the driver, operating system and application software companies to build their offerings before these sell to the general public.
Seamicro – AMD's in-house data center company – now ships almost entirely AMD x86-based products in its microservers (it had Intel Xeon and Atom versions available before acquisition). In October last year it announced a major order from Verizon Terremark for building its global Cloud platform. Overall it claims to have 3 times as many customers as before its purchase.
Some Conclusions – the balancing of old and new
To drive its strategy forward AMD will need to look beyond the device markets themselves to consider about the role the processor supplier can play within them. Each area offers a different set of challenges and opportunities. In particular:
Server –ARM cores are simpler, cheaper and lower-powered than x86 ones. They will drive a strong move to physicalisation (see our discussion of HP's Moonshot 100 for Hosted Desktops which is based on Atom chips) as long as the price of the physical core remains below that of a virtual machine running on a virtualised x86 server at Amazon and other public Clouds. AMD has an advantage over the other suppliers developing 64-ARM chips in its experience in the server market. It will continue to compete with Intel in the x86 market of course, but it's unlikely to seize the technical lead it had at the beginning of the millennium
PC – AMD reports increasing its share here from 8% in 2012 to 15% in 2013. ARM will make no inroads here in our view, despite Microsoft delivering operating systems and applications such as Office 365 for mobile ARM-based devices. While laptop PCs with touch screens look similar to tablets, they will continue to be differentiated by powerful local processing. AMD's approach will be to develop integrated SoCs, integrated CPU and GPU APU chips, miniaturised 'Nano PC' products and to compete more forcefully with nVidia for dedicated graphics cards. It will continue to compete against Intel here as well of course, where it will develop its advantages in low-Wattage, fan-less designs.
Mobile – ARM itself is different from Intel and AMD in being only a licensor of its technology – its revenues are tiny in comparison (see Figure). AMD may be joining Apple, nVidia, Qualcomm, Rockchip, Samsung and Texas Instruments as a producer of ARM chips, but its purposes are very different. Its focus is on the 64-bit versions needed for servers for which it will develop its own core designs sometime in the future. It is highly unlikely to want to compete with Rockchip for the $99 tablet– let alone the smart phone – markets, but will aim to win contracts from OEMs who want to launch high-end tablets without having to hire their own design teams.
Semi-Custom – AMD succeeded in winning the processor business for both the Playstation 4 and xBox One, both of which were launched last year; while it also supplies the GPU for Nintendo's Wii U. There is a turn around going on in this sector, where total shipments in 2013 included 18 million mobile and 30 million home consoles. Its success here is creating a halo effect in the PC gaming market against nVidia and Intel. There will be other opportunities in semi-custom and embedded business, although (like IBM's Technology group which supplied PowerPC chips to the previous generation of gaming consoles) some of these are likely to remain secret.
Embedded – AMD has been developing business here for some time. The addition of ARM chips will help it significantly, as they are more common than x86 chips in industrial markets.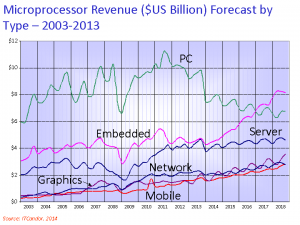 PC and Server chip markets will decline in coming years (see Figure), while those for graphics, network and mobile will grow. The strongest growth will be in embedded chips as the market goes beyond user controlled computing devices to appliances and the Internet of Things. The addition of ARM to x86 processors should allow AMD to intercept these growth markets while managing the decline in the server market. The efficiencies it's making through standardising the circuits used in all its chips will improve its agility and solidify this new integrated approach. It will find new competitors in the mobile and embedded markets, where it will need to offer more than existing manufacturers to warrant the high prices it needs to sustain its business.